Weikersheimer Mancalaspiel → Englisch, Portugiesisch.

Das Schloss Weikersheim, der Stammsitz der Herren von Hohenlohe bei Bad Mergentheim im Südwesten Deutschlands, ist bekannt für seine alten Spielbretter, u.a. für Backgammon, Schach, Dame und Mühle. Es beherbergt auch zwei Mancalabretter aus dem frühen 18. Jahrhundert. Sie sind Arbeiten der berühmten Künstlerfamilie Sommer in Künzelsau und entstanden 1709 (oder vielleicht auch schon 1704). Die älteste schriftliche Quelle zu einem Mancalaspiel in Deutschland datiert aus dem Jahr 1699, als Job Ludolf Qarqis (gemeint ist Gabata) in seinem Lexicon Aethiopico-Latinum erwähnt:
Qarqis: At secundum Gregorium Aethiopibus est Ludi genus cum factis aliquot in tabula forminibus blobuli mittuntur; quo genere lusus aliqui ad sortilegia abutuntur.
In der zweiten Hälfte des 17. Jahrhunderts wurde Mancala auch in französischer und englischer Reiseliteratur als ein beliebtes afrikanisches Spiel beschrieben.
Es wird wahrscheinlich nie geklärt werden können, auf welchem Wege damals Mancala eine kleine Stadt in Deutschland erreichte.
Die Tische sind aus Eichenholz im Barockstil gefertigt. Sie sind 80 cm hoch und ihre Oberfäche misst jeweils 110 x 74 cm und 168 x 70 cm. Jeder Tisch besitzt zwei Reihen aus sechs Mulden mit einer großen Speichermulde an jedem Ende. Die Spielsteine sind verloren gegangen und es sind auch keine Spielregeln erhalten geblieben.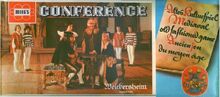 1964 inspirierten diese Spieltische Peter Mieg, einen Spielzeugfabrikanten aus Schwenningen, ein Mancalaspiel herzustellen, das er Conference nannte. Die Spielschachtel zeigt Studenten einer Universität in historschen Kostumen, die auf den Brettern spielen. Die Spielregeln von Conference waren jedoch von Kalaha geliehen.
Quellen
Anonym. 

[Über deutsche Spiele]. In: Frankfurter Allgemeine Zeitung (FAZ). 24. Dezember, 1965, 6.

Gering, R. 

Persönlicher Austausch mit Peter Mieg, Oktober 2004.

Ludolf, J. 

Lexicon Aethiopico-Latinum. Frankfurt (Deutschland) 1699, 154.
Externe Links
Copyright
Übersetzung aus dem Englischen.
© Wikimanqala.
Ralf Gering.
Veröffentlicht unter der CC by-sa 2.5 Lizenz.
Ad blocker interference detected!
Wikia is a free-to-use site that makes money from advertising. We have a modified experience for viewers using ad blockers

Wikia is not accessible if you've made further modifications. Remove the custom ad blocker rule(s) and the page will load as expected.