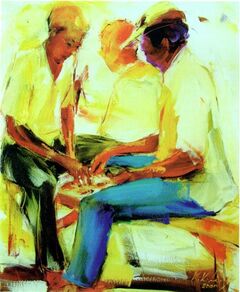 Urim Hands (Cape Verdean Creole: Mon D Urim) is a painting, oil on canvas, which was created by the Cape Verdean artist Euclides Eustáquio Lima (1953- ), also known as "Kiki" Lima, in 2000. It shows a game of Ouri (also known as Urim) in progress.
The artist was born in Ponta do Sol on the island of Santo Antão, but later moved to Portugal. Today he lives in Porto Salvo near Lisbon. David Levy Lima is recognized by art critics as the best Cape Verdean painter ever, and one of the most important contemporary African artists.
Kiki Lima's works were exhibited in Portugal, Spain, France, Switzerland, the Netherlands, Cape Verde, Cuba and Macau. He accomplished over 85 individual exhibitions and participated in more than 160 collective ones around the world.
External Links
Copyright
© Ralf Gering
Under the CC by-sa 2.5 license.
Ad blocker interference detected!
Wikia is a free-to-use site that makes money from advertising. We have a modified experience for viewers using ad blockers

Wikia is not accessible if you've made further modifications. Remove the custom ad blocker rule(s) and the page will load as expected.