Uril Board
Talk

1
856pages on
this wiki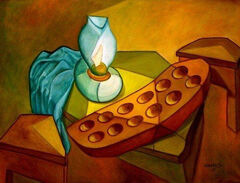 The Uril Board (Cape Verdean Creole: Banca d´Uril) is a painting, oil on canvas, which was created by the Cape Verdean artist Edith Borges (1954- ) in 1997. It shows an Ouri board (the game is also known as Uril).
The artist was born in the city of Mindelo on the island of São Vicente. During the Soviet era she studied at the Yerevan School of Fine Arts (Armenia) and the Moscow Institute of Fine Arts (Russia). In 1989, she moved to Sweden, where she currently lives in Malmo.
Edith Borges' works were exhibited in Sweden, Norway, Finland, Russia, Portugal, Cape Verde, Guinea-Bissau, Mozambique, and China (Shanghai and Beijing, 2007). She is internationally known as one of the finest Cape Verdean painters.
Quote
"Even living abroad, Cape Verde is always present."
Edith Borges (2005)
External Links
Copyright
© Ralf Gering
Under the CC by-sa 2.5 license.