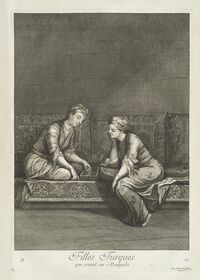 Turkish Girls Who Play Mangala (French: Filles Turques qui jouent du Mangala) is a print from a platemark created after a work of the Flemish-French painter Jean-Baptiste van Mour (1671-1737) by M. Le Hay in 1714. The platemark was commissioned by Count Charles Ferriol, marquis d'Argental. It measures 36 cm x 25 cm and and the print shows a game of Mangala in progress. The artwork is owned by the Art and Architecture Collection of the Miriam and Ira D. Wallach Division of Art.
See also
External Links
Copyright
© Ralf Gering
Under the CC by-sa 2.5 license.
Ad blocker interference detected!
Wikia is a free-to-use site that makes money from advertising. We have a modified experience for viewers using ad blockers

Wikia is not accessible if you've made further modifications. Remove the custom ad blocker rule(s) and the page will load as expected.