Tabuleiros de Mancala de Weikersheim → Alemão, Inglês.

O castelo de Weikersheim, a morada ancestral da aristocrática família von Hohenlohe, junto de Bad Mergentheim, no sudoeste da Alemanha, é famoso pelos seus tabuleiros de jogos ancestrais, como o Gamão Xadrez, Damas e Moinho. O castelo também possui, no seu espólio, duas mesas de jogo de mancala, datadas do início do século XVIII. São obras do conhecido artísta da família e merceneiro de Sommer, em Künzelsau, em 1709 (ou talvez em 1704?). O mais antigo registo escrito sobre mancala, na Alemanha data de 1699, quando Job Ludolf faz referência a qarqis (isto é, Gabata) no seu Lexicon Aethiopico-Latinum:
Qarqis: At secundum Gregorium Aethiopibus est Ludi genus cum factis aliquot in tabula forminibus blobuli mittuntur; quo genere lusus aliqui ad sortilegia abutuntur.
Na segunda metade do século XVII, mancala é também mencionado na literatura do género de viagens, quer Francesa quer Inglesa, como um popular jogo Africano.
Provavelmente, nunca será percebido como é que o jogo de mancala chegou a tão pequena cidade na Alemanha.
As mesas são elaboradas em madeira de carvalho, em estilo barroco. Têm 80 cm de altura e os tampos têm de dimensão 110 x 74 cm e 168 x 70 cm, respectivamente. Cada mesa tem duas filas com seis poços e dois grandes depósitos, em cada uma das extremidades. As pedras para jogar não chegaram até aos nossos dias e as regras não sobreviveram ao tempo.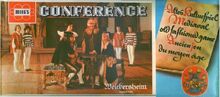 Em 1964, as mesas de jogo de Weikersheim inspiraram Peter Mieg, um fabricante de brinquedos de Schwenningen, a reproduzir o jogo de mancala, a que apelidou de Conference. A tampa do seu jogo ilustra estudantes universitários, nos seus trajes académicos, a jogar nos tabuleiros de mancala. As regras do Conference foram, contudo, emprestadas do Kalah.
Referências
Anónimos. 

[Sobre jogos na Alemanha]. No: Frankfurter Allgemeine Zeitung (FAZ). 24 de Dezembro de 1965, 6.

Ludolf, J. 

Lexicon Aethiopico-Latinum. Francoforte do Meno (Alemanha) 1699, 154.
Ligações Externas
Copyright / Licença
© Wikimanqala.
Ralf Gering.
CC by-sa 2.5.
Ad blocker interference detected!
Wikia is a free-to-use site that makes money from advertising. We have a modified experience for viewers using ad blockers

Wikia is not accessible if you've made further modifications. Remove the custom ad blocker rule(s) and the page will load as expected.