Tabuleiro de Mancala de Arguni → Alemão, Inglês.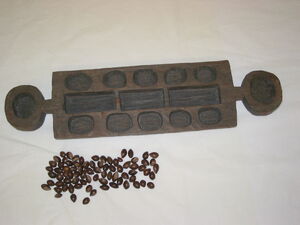 Adolf Hahn recolheu durante a expedição denominada Frobenius, em 1937/1938, um tabuleiro de mancala, na ilha de Arguni, ao largo da costa oeste da Nova Guiné (hoje conhecida por: Papua Ocidental, Indonésia). É um simples tabuleiro de Madeira com duas filas, cada uma com cinco poços redondos, três poços rectangulares mais largos, situados no meio do tabuleiro e, um poço redondo, que serve de depósito, para as peças capturadas, em cada uma das extremidades do tabuleiro. O tabuleiro mede de comprimento 60 cm e uma largura máxima de 16 cm. As pedras do jogo são sementes de uma espécie de uma planta indeterminada.
As notas de campo tiradas durante a expedição, que podem ter incluído as regras do jogo, foram destruídas, num ataque aéreo, durante a II Guerra Mundial. O tabuleiro pertence hoje à colecção de Frobenius, do Museum der Weltkulturen (ou seja o "Museu das Culturas do Mundo) situado em Frankfurt, na Alemanha. O inventário deste museu aponta para um número de tabuleiros que ronda N.S. 31750.
Arguni é uma pequena ilha no Golfo McCluer. É habitada pelo povo de Arguni. Apenas 150 pessoas falam a língua indígena Malaio-Polinésia. Como os habitantes de Arguni são oriundos das ilhas Molucas, muitos aspectos da sua cultura estão ligados com o povo Indonésio mas, não têm ligação com a Papua. O povo de Arguni produzia ferro e possuía porcelana, oriunda da China e até pérolas de vidro de Merovingian, que chegaram até eles através de antigas rotas comerciais, inclusive da Rota da Seda. A ilha pertencia a um Sultanato, que mais tarde serviu a Indonésia para legitimar a ocupação do oeste da Nova Guiné.
Ligações Externas
Copyright / Licença
Adaptado do artigo da Wikinfo, "Mancala board of Arguni" http://www.wikinfo.org/index.php/Mancala_board_of_Arguni, disponível sob a licença GNU Free Documentation License.
Ad blocker interference detected!
Wikia is a free-to-use site that makes money from advertising. We have a modified experience for viewers using ad blockers

Wikia is not accessible if you've made further modifications. Remove the custom ad blocker rule(s) and the page will load as expected.