Selus → Inglese.

L'espressione Selus indica, genericamente, un insieme di giochi della famiglia del mancala giocati nel corno d'Africa (in particolare Etiopia e Eritrea) su tavolieri con 3 file di buche. Questi giochi appartengono quindi alla relativamente rara famiglia dei "mancala III". Dei 103 mancala del corno d'Africa descritti da R. Pankhurst in un eccellente articolo del 1971 (vedi bibliografia), 12 erano mancala III o selus.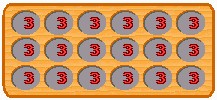 Situazione iniziale (Selus di Massawa)
Bibliografia
Gering, R. Selus and Sadéqa: African Warrior Games. In "Abstract Games Magazine", 2003, 4 (16), pp. 16-17.
Pankhurst, R. Gabata and Related Board Games of Ethiopia and the Horn of Africa. In "Ethiopia Observer", 1971, 14 (3), pp. 171-172.
Copyright / Licenza
Tutti i testi sono disponibili nel rispetto dei termini della GNU Free Documentation License. Voce originale (Wikipedia Italiana) "Selus", http://it.wikipedia.org/wiki/Selus.
Ad blocker interference detected!
Wikia is a free-to-use site that makes money from advertising. We have a modified experience for viewers using ad blockers

Wikia is not accessible if you've made further modifications. Remove the custom ad blocker rule(s) and the page will load as expected.