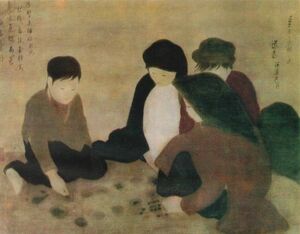 Playing the Ô Ăn Quan Game (Vietnamese: Chơi Ô ăn quan) is a famous silk painting created by the Vietnamese artist Nguyễn Phan Chánh (1892-1984) in 1931. It shows children who are playing Ô Ăn Quan. The painting was later even shown on a stamp.
The artist, who was born in Tiền Bạt, a small village of the Thạch Hà District, became a teacher in 1922. He began to study at the College of Fine Arts of Indochina in 1925. After his graduation in 1930, Nguyễn Phan Chánh became the founder of modern Vietnamese silk painting. His works were exhibited in Paris (France) in 1931, in Milan (Italy) in 1934, in San Francisco (USA) in 1937, and in Tokyo (Japan) in 1940. In the 1960s, his paintings supported the North Vietnamese government in their war against America. On December 18, 1972, a gallery was opened at the Vietnam Fine Arts Museum, then at 10 Nguyen Canh Chan Street, Hanoi, to celebrate the famous 80-year-old artist, which was the day when the United States started to bomb the Vietnamese capital. Operation Linebacker II became the largest heavy bomber strikes launched by the US Air Force since the end of World War II and lasted for 11 days. According to North Vietnam America carpet-bombed hospitals, schools, and residential areas, and committed barbarous crimes against their people, killing 1,624 civilians.
External Links
Copyright
© Ralf Gering
Under the CC by-sa 2.5 license.
Ad blocker interference detected!
Wikia is a free-to-use site that makes money from advertising. We have a modified experience for viewers using ad blockers

Wikia is not accessible if you've made further modifications. Remove the custom ad blocker rule(s) and the page will load as expected.