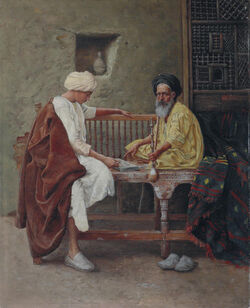 Playing a Game of Mancala is a painting, oil on canvas, created by the Austrian Hermann Reisz (1865-1920) in 1897. It measures 21½ x 17½ inches (54.6 x 44.5 cm). At a fine art auction of Christie's, the world's leading art business, the painting was sold for $32,200 in New York, Rockefeller Plaza, to a private collector on October 24, 2007.
It shows an oriental scene with two men playing mancala, maybe Mandoli or Mangala.
External Links
Copyright
© Ralf Gering
Under the CC by-sa 2.5 license.
Ad blocker interference detected!
Wikia is a free-to-use site that makes money from advertising. We have a modified experience for viewers using ad blockers

Wikia is not accessible if you've made further modifications. Remove the custom ad blocker rule(s) and the page will load as expected.