Oware → Alemão, Castelhano, Francês, Inglês, Italiano.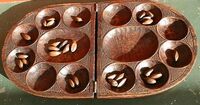 Oware (também conhecido como Ouri (em Cabo Verde), Awele ou Oware) é um dos jogos de mancala mais conhecidos que existem. É jogado com 48 peças ou sementes em um tabuleiro normal dos jogos de mancala. É considerado o jogo nacional de Gana.
Tabuleiro
O tabuleiro é inteiramente feito de madeira esculpida com 14 cavidades, das quais doze servem para a passagem das peças. As peças normalmente são sementes secas ou pequenos seixos.
Bibliografia
Ana Fraga & Maria Teresa Santos, Ouri, um jogo mancala, Educação e Matemática 2004; 76 (1): 9-11.
Albertino Graça, Jogo de Oril: regras, estratégias e teorias, Edição da ONDS (Organização Nacional da Diáspora Solidária), Mindelo (Cabo Verde) 1998.
Glaucia Nogueira, Ouril: Douze boca quarenta e oit dent, Novo Jornal Cabo Verde 1994; ano 1, n° 96: 8.
Elísio Santos Silva, O "ouri" - Um Jogo Caboverdiano e a sua prática em Portugal, Associação de Professores de Matemática, Lisboa 1994.
Ligações externas
Copyright / Licença
O texto desta página está sob a GNU Free Documentation License.
Origem, http://pt.wikipedia.org/wiki/Oware.
Ad blocker interference detected!
Wikia is a free-to-use site that makes money from advertising. We have a modified experience for viewers using ad blockers

Wikia is not accessible if you've made further modifications. Remove the custom ad blocker rule(s) and the page will load as expected.