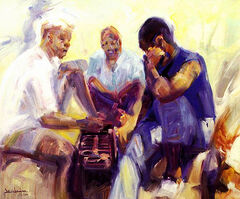 Ouril Players (Portuguese: Jogando o Ouril) is a painting, oil on canvas, which was created by the Cape Verdian artist David Levy Lima (1945- ) in 2000. It shows a game of Ouri (also known as Ouril) in progress.
The artist was born on the island of Santo Antão, but moved in 1963 to Lisbon. In 1968, he opened a gallery and an artist's workshop in Estoril. David Levy Lima is considered to be one of the most important painters of his country.
David Levy Lima's works were exhibited all over Portugal, but also in Düdelingen (Luxembourg), Milan (Italy), Praia and Mindelo (Cape Verde), Beijing (China) and Fall River MA (USA). He won several awards, among them the Prémio Jaime Figueiredo in 1991 and the Ordem do Vulcão in 2000.
External Links
Copyright
© Ralf Gering
Under the CC by-sa 2.5 license.
Ad blocker interference detected!
Wikia is a free-to-use site that makes money from advertising. We have a modified experience for viewers using ad blockers

Wikia is not accessible if you've made further modifications. Remove the custom ad blocker rule(s) and the page will load as expected.