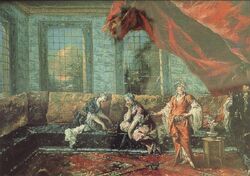 Odalisques Playing a Mancala Game in the Harem is an oil painting of the Venetian artist Francesco Guardi (1712-1793). It measures 45.5 cm x 64 cm. The painting shows two female slaves (assistants to the concubines and wives) in an Ottoman seraglio playing Mangala. In 2007, the artwork was one of the highlights of the spectacular exhibit "Venice and the Islamic World, 828–1797" of the Metropolitan Museum of Art in New York.
Francesco Guardi who was born in Venice into a family of lesser nobility from Trentino is considered to be among the last practitioners, along with his brothers, of the classic Venetian school of painting.
External Links
References
Esplund, L.

West Meets East. In: The New York Sun March 29, 2007.
Copyright
© Ralf Gering
Under the CC by-sa 2.5 license.
Ad blocker interference detected!
Wikia is a free-to-use site that makes money from advertising. We have a modified experience for viewers using ad blockers

Wikia is not accessible if you've made further modifications. Remove the custom ad blocker rule(s) and the page will load as expected.