Micro-Wari → Englisch.

Micro-Wari wurde 1977 von der Bulgarin Assia Popova und dem Franzosen André Deledicq erfunden. Das Spiel ist eines der kleinsten Mancala-Varianten. Kleiner ist nur noch Nano-Wari.
Spielregeln
Micro-Wari wird auf einem Brett gespielt, das aus zwei mal zwei Spielmulden besteht. Am Anfang der Partie befinden sich in jeder Spielmulde zwei Samen. Außerdem gibt es an beiden Enden je eine größere Speichermulde. Jedem Spieler gehört eine Muldenreihe.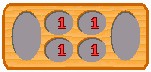 Startstellung
In jedem Zug nimmt ein Spieler den Inhalt einer seiner Spielmulden und verteilt ihn einzeln gegen den Uhrzeigersinn auf die folgenden Spielmulden.
Ein Spieler fängt den letzten Samen, wenn er in eine leere Spielmulde des Gegners fällt. Der gefangene Samen wird in die eigene Speichermulde gelegt.
Die Partie ist zu Ende, wenn ein Spieler nicht mehr ziehen kann. Sein Gegner bekommt dann die Samen, die noch in den Spielmulden liegen.
Der Spieler, der die meisten Samen gefangen hat, gewinnt.
Literatur
Deledicq, A. & Popova, A. Wari et Solo: Le Jeu de Calculs Africain (Collection "Les Distracts" 3). CEDIC, Paris 1977, 177-179.
Copyright
Adaptiert von dem ehemaligen Wikipedia Artikel "Micro-Wari" http://de.wikipedia.org/wiki/Micro-Wari, der unter der GNU Free Documentation License erschien, dann aber gelöscht wurde. Die Liste der Autoren war in der Wikipedia unter dieser Seite verfügbar.
Ad blocker interference detected!
Wikia is a free-to-use site that makes money from advertising. We have a modified experience for viewers using ad blockers

Wikia is not accessible if you've made further modifications. Remove the custom ad blocker rule(s) and the page will load as expected.