John Conway → Francese, Inglese, Polacca, Portoghese, Spagnola, Tedesca.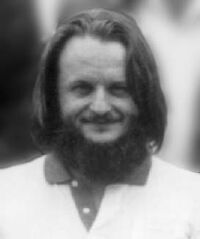 John Horton Conway (Liverpool, 26 dicembre 1937) è un matematico inglese. Noto non solo per i suoi risultati in settori di ricerca come teoria dei gruppi, teoria dei giochi, teoria dei nodi, teoria dei numeri, impaccamento di sfere, teoria del moonshine, ma anche per i suoi brillanti libri di divulgazione e per i vari giochi e rompicapo che ha inventato.
Ha inventato Sowing, un gioco di mancala ad una fila, che ha descritto nel 1994 in un workshop internazionale sulla teoria combinatoria dei giochi ospitato dal Mathematical Sciences Research Institute (MSRI) tenutosi a Berkeley in California.
Libri
Conway, J. H. (1970): Regular machines and regular languages
Conway, J. H. (1976): On numbers and games
Conway, J. H.; Berlekamp E. R.; Guy, R. K. (1982): Winning ways for your mathematical plays 2 volumi
Conway, J. H.; Sloane, N.J.A. (1988): Sphere packings, lattices and groups
Conway, J. H.; Guy, R. K. (1982): The book of numbers
Conway, J. H.; Smith D.A. (2003): On Quaternions and Octonions
Collegamenti esterni
Copyright / Licenza
Tutti i testi sono disponibili nel rispetto dei termini della GNU Free Documentation License. Voce originale (Wikipedia Italiana) "John Conway", http://it.wikipedia.org/wiki/John_Conway.
Ad blocker interference detected!
Wikia is a free-to-use site that makes money from advertising. We have a modified experience for viewers using ad blockers

Wikia is not accessible if you've made further modifications. Remove the custom ad blocker rule(s) and the page will load as expected.