John Conway → Alemán, Francés, Inglés, Italiano, Polaco, Portugués.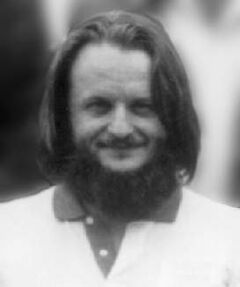 John Horton Conway (nacido en Liverpool, Gran Bretaña el 26 de diciembre de 1937). Prolífico matemático activo en la teoría de conjuntos (teoría de conjuntos finitos), teoría de nudos, teoría de números, teoría de juegos y teoría de códigos. Se formó en la Universidad de Cambridge.
Entre los matemáticos aficionados, quizás es más conocido por su teoría de juegos combinatorios, en particular por ser el creador en 1970 del juego de la vida. También es uno de los inventores del juego del drago, así como del Phutball y ha realizado análisis detallados de muchos otros juegos y problemas, como el cubo Soma.
Inventó un nuevo sistema numérico, los números surreales, los cuales se encuentran estrechamente relacionados a ciertos juegos y han sido objeto de una novela matemática por Donald Knuth. También ideó una nomenclatura para números excesivamente largos, la nowiki o flecha encadenada de Conway.
Actualmente es profesor de matemáticas en la Universidad de Princeton. En 1981 fue elegido miembro de la Royal Society.
Ha escrito varios libros de divulgación incluyendo Sobre números y juegos (ISBN 0-12-186350-6) y Maneras de ganar sus juegos matemáticos.
Libros
Conway, J. H. (1970): Regular machines and regular languages
Conway, J. H. (1976): On numbers and games
Conway, J. H.; Berlekamp E. R.; Guy, R. K. (1982): Winning ways for your mathematical plays 2 volúmenes
Conway, J. H.; Sloane, N.J.A. (1988): Sphere packings, lattices and groups
Conway, J. H.; Guy, R. K. (1982): The book of numbers
Conway, J. H.; Smith D.A. (2003): On Quaternions and Octonions
Enlaces externos
Licencia / Copyright
Contenido disponible bajo los términos de la Licencia de documentación libre de GNU. Wikipedia en español, "John Conway", http://es.wikipedia.org/wiki/John_Conway
Ad blocker interference detected!
Wikia is a free-to-use site that makes money from advertising. We have a modified experience for viewers using ad blockers

Wikia is not accessible if you've made further modifications. Remove the custom ad blocker rule(s) and the page will load as expected.