Jean-Etienne Liotard → Engelska, Franska, Italienska, Nederländska, Polska, Spanska, Tyska, Ungerska.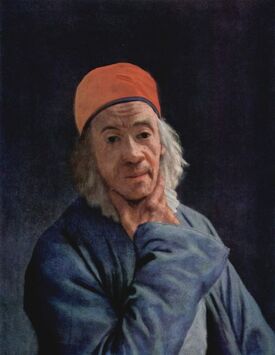 Jean-Étienne Liotard, född 22 december 1702 i Genève, Schweiz, död 12 juni 1789 i Genève, var en schweizisk pastell- och miniatyr målare.
Liotard specialiserade sig på societets- och genreporträtt, med Chokladflickan (cirka 1744) som ett fint exempel på det senare. En ung tjänsteflicka skildras när hon på en japansk lackbricka serverar het choklad i en kopp av meissenporslin. Traditionellt hör ett böhmiskt kristallglas fyllt med vatten till denna lyxiga dryck.
Liotard gick först i lära hos Daniel Gardelle i Genève och från och med 1723 hos Jean-Baptiste Massé i Paris. 1736 reste han till Florens och Rom, där han arbetade för påven Clemens XII och andra inflytelserika uppdragsgivare, bl.a. kardinaler.
Han tillbringade fem år (1738-1743) i Konstantinopel och fortsatte efter hemkomsten att gå omkring i turkisk kostym och skägg, något som gav honom öknamnet "peintre turc" (den turkiske målaren) och publicitet och framgång i hela Europa. Han målade ett flertal porträtt av sig själv i denna klädsel; självporträttet som gammal man (1773) är också berömt. I Wien utförde han porträtt av kejsarinnan Maria Theresia och medlemmar av hovet.
Licens / Copyright
All text tillgänglig under GNU Free Documentation License. Svenska Wikipedia, "Jean-Étienne Liotard", http://sv.wikipedia.org/wiki/Jean-%C3%89tienne_Liotard.
Ad blocker interference detected!
Wikia is a free-to-use site that makes money from advertising. We have a modified experience for viewers using ad blockers

Wikia is not accessible if you've made further modifications. Remove the custom ad blocker rule(s) and the page will load as expected.