Jean-Étienne Liotard → Angol, Francia, Holland, Német, Nyelv, Olasz, Spanyol, Svéd.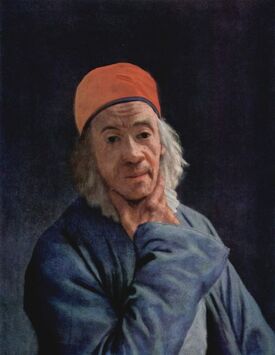 Jean-Étienne Liotard (Genf, 1702. december 22. – Genf, 1789. június 12.) svájci francia festő.
Életpályája
Hosszú élete során sokat utazott. Élt – többek között – Párizsban, Londonban, Rómában, Hollandiában. Törökös viselete miatt "a török festő"ként (« le peintre turc ») is emlegetik.
Kiemelkedőek pasztelljei: A szép csokoládéslány (La belle chocolatière) Drezdában látható. A rokokó jelentős művésze volt.
Művei
Számos múzeumban megtalálhatók a művei, így például az Uffiziben, a Louvre-ban, Genfben és a drezdai Zwingerben.
La liseuse, La belle chocolatière, La belle Lyonnaise (Drezda, Zwinger)
Rodolphe Coteau (pasztell, 1788, Genf, Musée de l'Art et de l' Histoire)
Ajánlott irodalom
R. Loche, M. Roethlisberger: L'opera completa di Liotard, 1978
Dessins de Liotard, kiállítási katalógus. Genève, Paris, 1992
A. Holleczek: Jean-Etienne Liotard, 2001
Külső hivatkozás
Licenc / Copyright
A lap szövege a GNU Free Documentation License feltételei szerint használható fel. A magyar nyelvű Wikipédia, "Jean-Étienne Liotard", http://hu.wikipedia.org/wiki/Jean-%C3%89tienne_Liotard.
Ad blocker interference detected!
Wikia is a free-to-use site that makes money from advertising. We have a modified experience for viewers using ad blockers

Wikia is not accessible if you've made further modifications. Remove the custom ad blocker rule(s) and the page will load as expected.