Jean-Etienne Liotard → Francese, Inglese, Olandese, Polacca, Spagnola, Svedese, Tedesca, Ungherese.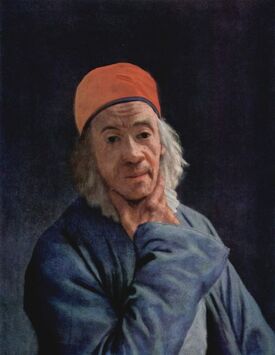 Jean-Étienne Liotard (Ginevra, 22 dicembre 1702 - 12 giugno 1789) fu un pittore svizzero del XVIII secolo
Biografia
Formatosi in Italia e a Parigi come smaltatore e miniaturista, si specializzò come pittore di dipinti di genere: fu uno dei ritrattist più ricercati del suo tempo, specialista nella tecnica del pastello.
Dopo un soggiorno a Costantinopoli (1738 - 1742), si stabilì a Vienna dove venne nominato pittore di corte dagli Asburgo: la carica gli procurò notevole fama, tanto che a lui iniziò a rivolgersi la migliore aristocrazia europea.
Trascorse i suoi ultimi giorni a Ginevra dedicandosi alle nature morte.
Copyright / Licenza
Tutti i testi sono disponibili nel rispetto dei termini della GNU Free Documentation License. Voce originale (Wikipedia Italiana) "Jean-Étiene Liotard", http://it.wikipedia.org/wiki/Jean-%C3%89tienne_Liotard.
Ad blocker interference detected!
Wikia is a free-to-use site that makes money from advertising. We have a modified experience for viewers using ad blockers

Wikia is not accessible if you've made further modifications. Remove the custom ad blocker rule(s) and the page will load as expected.