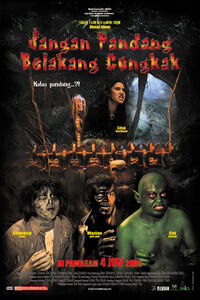 Jangan Pandang Belakang Congkak (translates "Don't look back, Congkak!") is a 2009 Malaysian horror/comedy film directed by Ahmad Idham.
This movie was produced after the success of two previous horror movies Jangan Pandang Belakang (April 2007) and Congkak (April 2008). This movie was released in Malaysian cinemas on 4 June 2009 while the first Malaysian TV Premiere is available on Astro Box Office Movies Tayangan Hebat in September and October 2009.
Synopsis
Edit
This comedy/horror movie tells a story of three youths from Kuala Lumpur; Punai, (Mazlan Pet Pet) a car jockey, Asmat (Cat Farish), a cleaner in production studio and 'rapper wannabe', and Johan (Sam Shaheizy), an 'acting star wannabe'.
They each received a letter from the late Pak Sudir (Piee), inviting them to his house. Upon their arrival, they meet up with Pak Sudir's assistant, Mustika (Lisa Surihani), and they discovered that Pak Sudir was actually their grandfather who happens to be very rich.
The three of them stands a chance to inherit all of his belongings and wealth but under strict circumstances; they would have to stay at his house for three days consecutively without touching anything, especially an old Congkak. On the first night itself, strange and hilarious occurrences begin to happen.
Sam Shaheizy as Johan
Cat Farish as Asmat
Mazlan Pet Pet as Punai
Lisa Surihani as Mustika
Azlee Jaafar as Pak Mor
Piee as Pak Sudir
Den Wahab as Latiff
Belalang as Megat
Dina (Malaysian Idol 2004) as Ziana
Zarina (Akedemi Fantasia 2004) as Wati
Mas Muharni as Wawa
External Links
Edit
Copyright
Edit
Adapted from the Wikipedia article, "Jangan Pandang Belakang Congkak" http://en.wikipedia.org/wiki/Jangan_Pandang_Belakang_Congkak, used under the GNU Free Documentation License. Its history can be found here.
Ad blocker interference detected!
Wikia is a free-to-use site that makes money from advertising. We have a modified experience for viewers using ad blockers

Wikia is not accessible if you've made further modifications. Remove the custom ad blocker rule(s) and the page will load as expected.