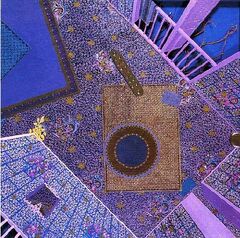 Interior No. 29 is a mixed media painting created by the Malaysian woman artist Mastura Abdul Rahman in 1987. It measures 115.6 cm x 115.8 cm. The artwork is part of the National Art Gallery Permanent Collection.
Mastura Abdul Rahman (1963- ) studied at the School of Art & Design, University Technology MARA (UITM) in Shah Alam (Petaling District, Malaysia). In the 1980s, she became involved with the Malay-Islamic revivalist movement. Her works reflect the new decorative impulses that have emerged within Malaysian art and are firmly rooted in her own sense of her Malay-ness.
Interior No. 29 has been extensively analyzed in Izmer Ahmad's Ph.D. dissertation on the trace of circumcision in modern Malay/sian art. He wrote (page 133):
"This painting features the interior space of a traditional Malay house known as the 'Ruang Ibu' (Mother's Space) that is marked by batik motifs. Like the architectural space, the use of batik in the painting is also symbolic of womanhood. The artist, in her own word, states: "I am a typical Malay woman, so I like Batik" (Queensland Art Gallery 1993). The painting is yet another example wherein Malay identity is affirmed and manifested through art. In this sense, the painting continues the labors of the APS that express Malay identity through a maternal metaphor. Yet, as a work by a female artist, the painting introduces a female voice on a subject that has been hitherto largely articulated by male artists."
The depiction of a Congkak board affirms this interpretation as Congkak is traditionally considered a women's game in Malaysia.
In 1999, she created another masterpiece called House of Flower, House of Harmony, which shows a similar symbolic language.
External Links
References
Ahmad, I.

Tracing the Mark of Circumcision in Modern Malay/sian Art. Ph.D.-thesis. University of Victoria, Victoria BC (Canada) 2008, 133-141.
Copyright
© Ralf Gering
Under the CC by-sa 2.5 license.
Ad blocker interference detected!
Wikia is a free-to-use site that makes money from advertising. We have a modified experience for viewers using ad blockers

Wikia is not accessible if you've made further modifications. Remove the custom ad blocker rule(s) and the page will load as expected.