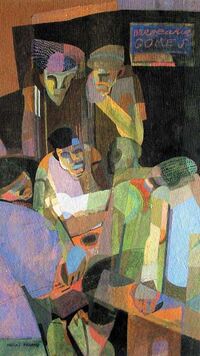 Game of Uril (Portuguese: Jogo de Uril) is a painting created by the Cabo Verdian artist Manuel Figueira (1938 - ) in 1973. It shows a game of Ouri (also known as Uril) in progress.
Figueira studied painting at the Escola Superior das Belas Artes ("Superior School of Fine Arts") of the University of Lisbon. After his studies, he worked as a teacher and participated in numerous exhibitions in Lisbon. He returned to the island of São Vicente after the independence of Cabo Verde in 1975 to collaborate in the revitalization of popular culture. There he and other artists founded the Cooperativa da Resistência ("Cooperative of Resistance"). Later the cooperative became the state-run Centro Nacional de Artesanato ("National Handicraft Center"), of which he was director from 1979 to 1989.
Manuel Figuera's works were exhibited in Washington, Lisbon, Rio de Janeiro, Sevilla and many other places. His techniques are painting, tapestry and batik.
External Links
Copyright
© Ralf Gering
Under the CC by-sa 2.5 license.
Ad blocker interference detected!
Wikia is a free-to-use site that makes money from advertising. We have a modified experience for viewers using ad blockers

Wikia is not accessible if you've made further modifications. Remove the custom ad blocker rule(s) and the page will load as expected.