Edward William Lane → Engelska, Italienska, Portugisiska, Tyska.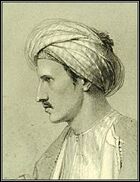 Edward William Lane, född 17 september 1801 i Hereford, död 10 augusti 1876, var en brittisk orientalist.
Lane skaffade sig under långvariga besök i Egypten en ingående kännedom om dess land, folk och språk. Efter sina två första besök, 1825-28 och 1833-35, utgav han sin förträffliga Account of the manners and customs of the modern Egyptians (2 band, 1836) och en översättning av Tusen och en natt under titeln Arabian nights (1838-40), båda illustrerade av Lane själv. Efter sitt tredje besök, 1842-49, arbetade han fram till sin död på ett arabiskt lexikon, Arabic-English lexicon, varav 5 band utkom under hans levnad (1863-73). Tre band utgavs senare av numismatikern Stanley Lane-Poole.
Carlquist, Gunnar, red (1933). Svensk uppslagsbok. Bd 16. Malmö: Svensk Uppslagsbok AB. Sid. 846
Licens / Copyright
Edit
All text tillgänglig under GNU Free Documentation License. Svenska Wikipedia, "Edward William Lane", http://sv.wikipedia.org/wiki/Edward_William_Lane.
Ad blocker interference detected!
Wikia is a free-to-use site that makes money from advertising. We have a modified experience for viewers using ad blockers

Wikia is not accessible if you've made further modifications. Remove the custom ad blocker rule(s) and the page will load as expected.