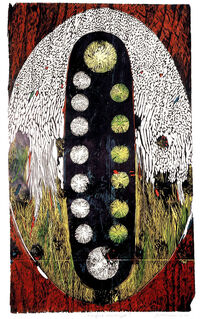 Congkak Congak ("Congkak Counting") is a painting (woodblock and watercolour on paper) created by the Malaysian artist Juhari Said in 1998. Its size is 91 x 150 cm. The painting shows a Congkak board. The row on the right has one hole less than the row to its left.
Juhari Said (born January 6, 1961) has received numerous awards, e.g. the Main Prize in the Printmaking category of Salon Malaysia in 1991, a research grant for printmaking from the French Government in 1993, and the Anugerah Karyawan Seni by the Ministry of Unity, Culture, Arts and Heritage in 2009.
Said has had his artwork showcased at solo exhibitions in Tokyo (Japan), Vienna (Austria) and Kuala Lumpur (Malaysia). Recently he turned to painting, woodcarving and ceramics, after being known for two decades as Malaysia's foremost printmaker.
External Links
Edit
Copyright
Edit
© Ralf Gering
Under the CC by-sa 2.5 license.
Ad blocker interference detected!
Wikia is a free-to-use site that makes money from advertising. We have a modified experience for viewers using ad blockers

Wikia is not accessible if you've made further modifications. Remove the custom ad blocker rule(s) and the page will load as expected.