Chisolo II → Inglese.
Chisolo
Prima Descrizione: Rev. Edwin W. Smith
Cap. Andrew Murray Dale, 1920
Buche: 7
File: 4
Tipo Semina: Multipla
Regione: Zambia
Il Chisolo II è un gioco astratto della famiglia dei mancala, giocato dal popolo Ba-Ila della Zambia. E' stato descritto per la prima volta nel 1920 dal Rev. Edwin W. Smith e dal Cap. Andrew Murray Dale, nel loro lavoro "The Ila-Speaking People of North Rhodesia" , come variante del Chisolo I.
Regole
Tavoliere e disposizione iniziale
Il tavoliere da Chisolo II, è identico a quello del Chisolo I e spesso ricavato scavando delle buche nel terreno. Comprende quattro file di buche; il numero di buche per fila è sette.
La disposizione iniziale delle pietre prevede una pietra per ogni buca. Non ci sono quindi buche vuote all'inizio del gioco.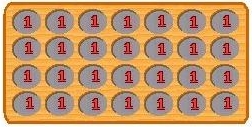 Disposizione iniziale
Regole
Poiché non esiste una buca vuota che può essere utilizzata come termine della semina per catturare, il giocatore che inizia, senza spostare nessuna delle sue pietre, cattura (preleva) due pietre avversarie in due buche opposte ad una sua della fila interna e come nel Chisolo I, strappa (ruba, detto "kusuwa" in lingua Ba-Ila) un'altra pietra da una qualunque altra buca avversaria. In questo modo svuota tre fori, e il suo avversario fa lo stesso. Ora nel tavoliere ci sono buche vuote e il gioco può continuare come nel Chisolo I. Come si vede il gioco non inizia con una semina come negli altri mancala, ma con una cattura per preparare il tavoliere per il gioco regolare. Da questo si può dedurre, anche se non specificato, che i giochi di Chisolo I debbano iniziare con una cattura. Il Chisolo II è giocato con regole identiche a quelle del Chisolo I.
Conclusione del gioco
Il gioco termina quando un giocatore non ha più pietre nelle proprie buche. I semi restanti vengono catturati dall'avversario, e vince chi ha catturato più semi.
Bibliografia
E. W. Smith and A. M. Dale, The Ila-speaking Peoples of Northern Rhodesia, Londra, 1920.
H. J. R. Murray, A History of Board-Games Other Than Chess, Oxford, 1952.
Copyright / Licenza
© Alberto Bertaggia
Under the CC by-sa 2.5 license.
Ad blocker interference detected!
Wikia is a free-to-use site that makes money from advertising. We have a modified experience for viewers using ad blockers

Wikia is not accessible if you've made further modifications. Remove the custom ad blocker rule(s) and the page will load as expected.