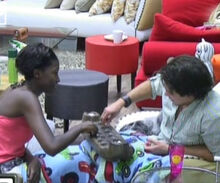 Big Brother Africa 6 (also known as Big Brother Africa: Amplified) is the sixth season of the Big Brother Africa reality television series produced by Endemol for Mnet, which began airing on May 1, 2011 and run for 91 days until July 31, 2011. This year Mnet co-partnered with Coca-Cola for the series. IK returned as host for the series. The launch show was also broadcasted live through the official website. This year the contestants will move into a brand new house. South African band BLKJKS performed their song 'Mzabalazo'; Busta Rhymes also performed during the 2 hour launch show. 26 contestants entered the house on May 1 although they all may not become housemates; there will be challenges to determine who will stay in the house. On day 7 all the housemates passed. All of them were removed from the house, 15 rentered the main "Heads House" while the other 11 entered the "Tails House". On day 42, it was announced that there will be 2 winners winning USD 200 000 each this year. 7 housemates vied for the grandprize during the final week of voting in which Karen Igho of Nigeria and Wendall Robert Parson of Zimbabwe have been declared winner of the Big Brother Africa Season 6.
Mancala Scene
Edit
A much reported mancala scene could be seen on June 6, when Weza said that she had already packed but Vimbai said she wasn't done yet as she continued with her mancala game with Wendall.
"Saturday afternoons are usually laid back in the House so the Housemates took some time off to play sport, board games and do their hair to unwind. From Ping-Pong to Chess and Mancala, the Housemates found something fun to while away their time."
Time to Unwind! (Kla5)
External Links
Edit
Copyright
Edit
(1) The introductory section was adapted from the Wikipedia article, "Big Brother Africa" hhttp://en.wikipedia.org/wiki/Big_Brother_Africa_6, used under the GNU Free Documentation License.
(2) The other sections were released by Ralf Gering, under the CC by-sa 2.5 license.
Ad blocker interference detected!
Wikia is a free-to-use site that makes money from advertising. We have a modified experience for viewers using ad blockers

Wikia is not accessible if you've made further modifications. Remove the custom ad blocker rule(s) and the page will load as expected.