Arty Sandler → Alemão, Inglês.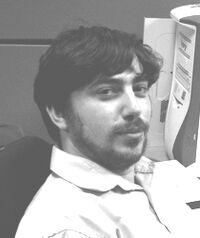 Arty Sandler (Artyom Tchebotaryov, nascido em 1978) é um criador de software. Natural de Voronezh (Rússia), mais tarde mudou-se para Smila (Ucrânia), uma pequena localidade perto de Minsk (Bielorrússia), em seguida para Upper Nazareth e ainda Haifa (Israel). Hoje vive com a sua esposa Milana, sua filha Sheana e seu filho Kyle, em Kanata, um subúrbio de Ottawa (Canadá).
Arty é o criador e o proprietário do igGameCenter, um Portal de Jogos na Internet que possibilita a prática de jogos de tabuleiro sejam eles de teor abstracto ou de estratégia, em tempo real, através de um motor de jogos para múltiplos jogadores. Arty implementou desde o princípio da mini aplicação, muitos jogos de estratégia e abstractos de entre os quais se destacam os clássicos como Bashni, Camelot, Lasca, Shatranj e Teeko. Arty também implementou mais jogos da família mancala no seu website que qualquer outro portal de jogos, facto que o notabiliza e deste modo se torna um dos mais ilustres promotores da família deste jogos. Arty adicionou nove jogos mancala e cinco jogos de sementeira bidimensional:
É da sua autoria o jogo Quartetto (2008), um jogo de padrão de construção e Talpa (2010), um jogo de conexão.
Ligações externas
Edit
Copyright / Licença
Edit
O texto desta página está sob a CC by-sa 2.5 licença.
© Miceu Tavares
Ad blocker interference detected!
Wikia is a free-to-use site that makes money from advertising. We have a modified experience for viewers using ad blockers

Wikia is not accessible if you've made further modifications. Remove the custom ad blocker rule(s) and the page will load as expected.