Arty Sandler → Englisch, Portugiesisch.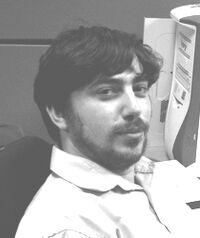 Arty Sandler (geboren als Artyom Tchebotaryov, 1978-) ist ein Sorftare-Entwickler. Er wurde in Voronezh (Russland) geboren, zog später nach Smila (Ukraine), einer kleinen Siedlung in der Nähe von Minsk (Weißrussland), dann nach Nazareth Illit und Haifa (Israel). Heute lebt er mit seiner Frau Milana, seiner Tochter Sheana und seinem Sohn Kyle in Kanata, einem Vorort von Ottawa (Kanada).
Arty schuf das igGameCenter, einem Spieleportal im Internet, das das Spielen abstrakter, strategischer Brettspiele in Realzeit ermöglicht. Er implementierte viele abstrakte Strategiespiele zum ersten Mal, u.a. so bekannte Klassiker wie Baschni, Camelot, Laska, Schatrandsch und Teeko. Arty programmierte auch mehr Mancalavarianten für seine Webseite als irgendjemand anders und wurde so einer der wichtigsten Förderer dieser Spielefamilie. Bis zum 13. April 2013 implementierte er neun Mancalaspiele und fünf zweidimensionale "Sowing Games":
Arty entwarf auch Quartetto (2008), ein Spiel, bei dem es darum geht, bestimmte Muster zu bilden, und Talpa (2010), ein Verbindungsspiel.
Externe Links
Edit
Copyright
Edit
© Ralf Gering
Unter der CC by-sa 2.5 Lizenz.
Ad blocker interference detected!
Wikia is a free-to-use site that makes money from advertising. We have a modified experience for viewers using ad blockers

Wikia is not accessible if you've made further modifications. Remove the custom ad blocker rule(s) and the page will load as expected.