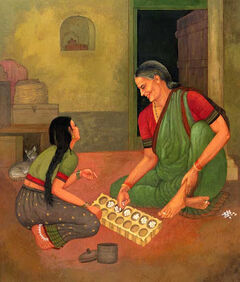 Aligulimane (Kannada: "block of wood with holes") is a painting, opaque water colours on paper, which was created by the Indian artist G. L. N. Simha (1938- ) in 2007. Its size is 30 cm x 35 cm. The painting, which is in the collection of Ramsons Kala Pratishtana, Mysore, shows a game of Aligulimane between a grandmother and her granddaughter.
The artist was born in Mysore; he studied at Mysore's Chamaraja Technical Institute from 1954-1959. In 1988, he moved to Kalale, a small secluded village in Karnataka. In 2003, he was bestowed with Rotary Ramsons Kala Pratishtana Award and Honorary Award of Karnataka Lalita Kala Academy. In 2004, he received the Veerappa Award. In 2011, Simha was conferred the Kuncha Kala Tapasvi Tippaji Chitragar Award by the Tippaji Chitragar Art Foundation.
Simha's paintings were exhibited in Belgium and India. Some of his artwork is on permanent display at the Museum of Sacred Art in Belgium. According to critics, the artist employs an innovative blend of the traditional and the creative, the real and the imaginary, to produce his unique style of paintings. Typical for his paintings are their vivid and exotic colours.
External Links
Copyright
© Ralf Gering
Under the CC by-sa 2.5 license.
Ad blocker interference detected!
Wikia is a free-to-use site that makes money from advertising. We have a modified experience for viewers using ad blockers

Wikia is not accessible if you've made further modifications. Remove the custom ad blocker rule(s) and the page will load as expected.