Alex Randolph en Allemand, en Anglais, Tchèque.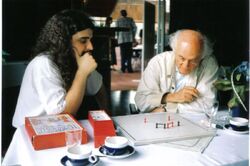 Alex Randolph (* 4 mai 1922, États-Unis ; † 27 avril 2004, Venise / Italie), fut un très important auteur de jeux de société.
Ce n'est qu'en 1961 qu'Alex Randolph devient auteur de jeux de société. Il s'installe au Japon où il va résider jusqu'en 1968. Puis il s'installe définitivement à Venise.
Créateur de jeux comme TwixT, Sagaland, Intrigues à Venise, Rasende Roboter et de beaucoup d'autres, Alex Randolph a enchanté et enchante toujours petits et grands joueurs. Alex Randolph était tellement connu que les éditeurs mentionnaient généralement son nom sur les boîtes de jeu. Il a ainsi fortement participé à la reconnaissance du métier d'auteur de jeux de société.
Celui qui reste un maître incontesté du domaine du jeu de société s'est éteint peu avant ses 82 ans à Venise, sa patrie d'élection.
Ludographie succincte
Seul auteur
TwixT, 1957/1962, 3M / Schmidt Spiele / Dujardin / Kosmos
Buffalo ou Prairie, 1975, Pelikan / Piatnik
Fantômes ou Geister, 1982, Schmidt Spiele
Allez les escargots, 1985, Ravensburger
Stupide vautour, 1988, Ravensburger / Asmodée
Venice Connection, 1995, Drei Magier Spiele / Venice Connection,
Sisimizi, 1996, Editrice Giochi
Ciao Ciao, 1997, Drei Magier Spiele
Die Drei, 1998, Franjos
Rasende Roboter ou Ricochet Robots, 1999, Hans im Glück / Tilsit
Avec Michael Matschoss
Sagaland ou Fabuleux trésors ou Forêt enchantée, 1981, Ravensburger
Attribué à Rober Abboz
Avec Leo Colovini
Intrigues à Venise, 1988, MB / Winning Moves
Die Osterinsel, 1993, Blatz
Mini Inkognito, 1997, Abacus
Liens externes
Copy right / Source
Wikipedia Français: L'article Alex Randolph, http://fr.wikipedia.org/wiki/Alex_Randolph, est disponible sous les termes de la licence de documentation libre GNU (GFDL). Son historique est ici.
Ad blocker interference detected!
Wikia is a free-to-use site that makes money from advertising. We have a modified experience for viewers using ad blockers

Wikia is not accessible if you've made further modifications. Remove the custom ad blocker rule(s) and the page will load as expected.