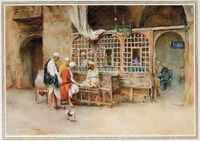 A Cairene Café is a watercolor painting, which was created by the English artist, book illustrator and travel writer Walter Frederick Roofe Tyndale (1855–1943) in 1912. It shows a game of L'ab al-Akil in an Egyptian café in the early 20th century. The painting was used as an illustration in the book "An artist in Egypt".
Tyndale was a member of the Royal Institute of Painters in Watercolours (RI), a founding member of the "Haslemere Art Society" and president of the latter between 1930–1932. He exhibited his works at various venues including the Royal Academy, the RI gallery in Piccadilly and Dowdeswell Galleries in London.
References
Edit
Clement, J.

Jocs mancala a Egipte a principis del segle XX. In: Món aualé 2013 (2); 2: 4-7.

Tyndale, W.

An Artist in Egypt. Hodder & Stoughton, New York NY (USA) & London (UK) 1912.
Copyright
Edit
© Ralf Gering
Under the CC by-sa 2.5 license.
Ad blocker interference detected!
Wikia is a free-to-use site that makes money from advertising. We have a modified experience for viewers using ad blockers

Wikia is not accessible if you've made further modifications. Remove the custom ad blocker rule(s) and the page will load as expected.