Étienne de Flacourt → angielski, francuski, niemiecki, portugalski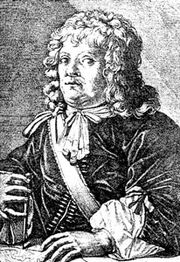 Étienne de Flacourt (ur. 1607 w Orleanie, zm. 10 czerwca 1660 w Lizbonie) - francuski gubernatorem Madagaskaru.
Został mianowany gubernatorem przez Francuską Kompanię Wschodnioindyjską w roku 1648. Do metropolii powrócił w roku 1655.
Copyright / Prawo autorskie
Tekst ("Étienne de Flacourt", http://pl.wikipedia.org/wiki/%C3%89tienne_de_Flacourt) udostępniany na licencji Creative Commons: uznanie autorstwa, na tych samych warunkach, z możliwością obowiązywania dodatkowych ograniczeń. - Historia i autorzy.
Ad blocker interference detected!
Wikia is a free-to-use site that makes money from advertising. We have a modified experience for viewers using ad blockers

Wikia is not accessible if you've made further modifications. Remove the custom ad blocker rule(s) and the page will load as expected.